WHAT IS THE DIFFERENCE BETWEEN MRE AND MRE LITE?
MRE is made from natural ingredients and a real protein blend. This Meal Replacement formula contains absolutely no whey! With MRE, it was formulated with the nutrients you need to repair and recover muscle tissue from the best possible whole foods sources.
MRE Lite delivers the same great taste and whole food goodness as the original MRE. However, with much lower carbohydrates and calories…which makes it perfect for someone looking for a meal replacement but want to keep a close eye on their macros.
BREAKDOWN
MRE Lite – 130 Calories per serve
Protein 24 grams
Carbs 4 grams
Fats 2 grams
MRE Lite does not contain any Whey which makes it perfect or anyone who has digestion issues with Whey based protein.
Made from a protein blend of Beef protein blend, salmon protein, chicken protein, egg protein, brown rice protein and pea protein.
Carbohydrate blend of rolled oats, yams and sweet potato.
MRE Lite has also been formulated with MCT Oil which provides a source of fats that the body can efficiently use as a source of energy
BECAUSE MRE LITE DOES NOT CONTAIN WHEY, DOES THIS MEAN IT IS DAIRY FREE?
While MRE contains no whey protein, it does contain dairy and should not be consumed if you have a dairy allergy.
IS MRE VEGAN FRIENDLY?
No MRE is not vegan friendly. MRE is made from animal protein sources such as fish, beef, eggs and chicken and therefore is not recommend for anyone who is vegan.
WHEN SHOULD I TAKE MRE LITE?
MRE can be taken anytime during the day. Mix 1 Scoop OF MRE Lite with 150ml – 200ml of water or milk, shake well and consume.
For training days, take immediately after training for the perfect post recovery solution.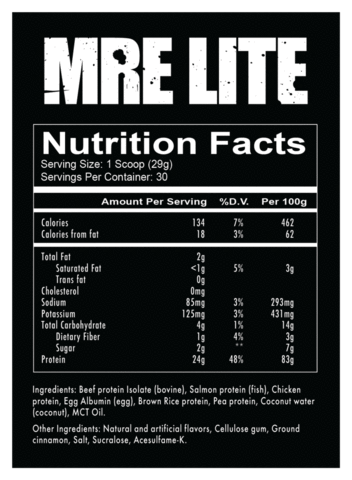 Payment & Security
Your payment information is processed securely. We do not store credit card details nor have access to your credit card information.